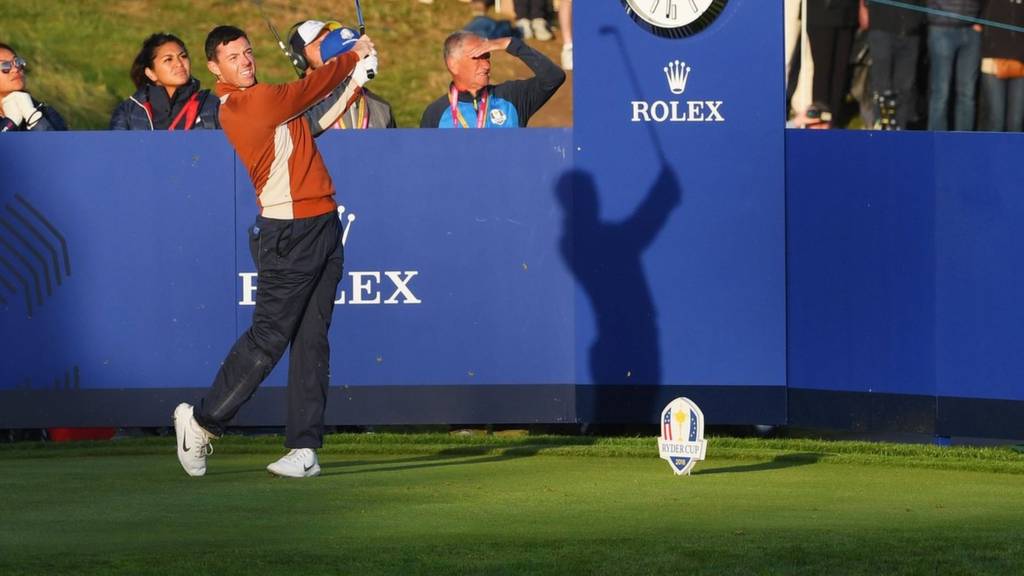 Related Video and Audio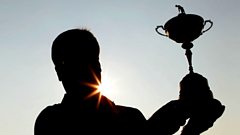 Coming up
Play audio Day Two from BBC Radio 5 live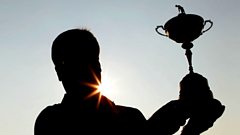 Coming up
Play audio Day Two from BBC Radio 5 live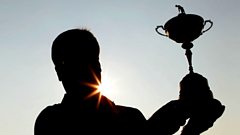 Coming up
Play audio Day Two from BBC Radio 5 live
RTL
Got a TV Licence?
You need one to watch live TV on any channel or device, and BBC programmes on iPlayer. It's the law.
Summary
Score: Europe 5-3 US
2UP McIlroy & Garcia v Koepka & Finau (5)
1UP Casey & Hatton v Johnson & Fowler (4)
2UP Molinari & Fleetwood v Woods & Reed (3)
Poulter & Rahm v Thomas & Spieth 1UP (2)
Get involved using #bbcRyderCup
Live Reporting
By Alistair Magowan and Mike Henson
All times stated are UK
Send a text to

81111 (charged at your standard message rate)

Twitter:

Use the hashtag

#bbcRyderCup

Facebook:

BBC Sport
Post update

Poulter & Rahm v Thomas & Spieth 1 UP (3)

Ian Poulter hits a lovely second-shot iron into the green on the par-five second, maybe 25 foot for his putt.

Justin Thomas is not far off that though behind him.

Jon Rahm's third shot is a precise bomb right down on the flag.

Rory hushes American hollers

Alex Bysouth

BBC Sport at Le Golf National

Another round of Icelandic claps, started from the stewards on the grandstand by the fifth.

But they soon turned to American hollers when Tony Finau chipped in from the bunker.

Cue Rory McIlroy to restore European chanting rights.

Get Involved

#bbcRyderCup or text on 8111

Matt W:Can one of the vice captains please get the message to Jon Rahm, it's easier to play from any fairway, first cut or the hay than it is the water. Thank you.

David:Can't USA have an away kit that doesn't clash. Get it sorted for next time.

Daniel:Why are Europe in Red and USA in Blue? I'm getting very confused whose playing shots. it makes the call believe in blue a bit of a joke too.

I think we went with burnt orange/rust when describing the European colours earlier Daniel.

Craig Connelly

PGA & European Tour caddie for BBC Radio 5 live

I wonder if all those missed putts from yesterday are taking their toll on Dustin Johnson and affecting him psychologically.

He missed a lot of those from inside 10 feet and it's between the ears that makes you stand out.

BBCCopyright: BBC

Rory roars for amazing half

2UP McIlroy & Garcia v Koepka & Finau (5)

There were lots of lessons to learned from yesterday but perhaps one from Rory McIlroy's point of view, is that he responds to having an older head next to him rather than a rookie.

He flourished with Ian Poulter rather than Thorbjorn Olesen and he's got that bounce back in his stride next to Sergio.

After sweeping a lovely approach to within 10 feet, the Northern Irishman responds to Tony Finau's delightful chip in from the bunker by nailing a 12 foot putt for birdie.

Rory roars in delight as he halves the hole. C'mon son, that is vintage McIlroy!

Casey puts Europe one up

1 UP Casey & Hatton A/S Johnson & Fowler (4)

Paul Casey provides the jam to go with the cream (on his scone, of course) as he follows up his approach on four with a birdie putt from 10 feet to put Europe one up.

He gobbled up that chance as if he was enjoying a Cornish tea in St Ives.

Molinari wins hole to move two up

2 UP Molinari & Fleetwood v Reed & Woods (3)

Francesco Molinari's eagle putt to win the hole is on it's way, it's tracking on line, lovely weight, just drifts off at the end.

It is only a tap-in for a four though.

Tiger Woods has a snaking 20-footer of his own to try and salvage a half.

A mis-read. The American saw a slope that was never there, setting it out and never getting the boomerang back.

Molinari in command on third

1 UP Molinari & Fleetwood v Reed & Woods (2)

The United States are in strife on the third as well. Patrick Reed is messing around amongst the wildlife in the rough and Tiger Woods had to chop out sideway after an errant tee-shot.

Tommy Fleetwood is also wet and wild, but Francesco Molinari is looking solid as doctor's desk.

He is on the green in two and a makeable eagle putt of about 20 feet.

Casey calling, Dustin bustin'

Casey & Hatton A/S Johnson & Fowler (3)

Back on the par-four fourth, Paul Casey has struck a sweet second shot to within 10 feet. Rickie Fowler cannot find the green.

Dustin Johnson is having a shocker. Former Ryder Cup winner Jamie Donaldson, speaking on BBC Radio 5 live, reckons the world number one would be about six over par through four holes, if he was playing stroke play.

Spieth holes out to win hole

Poulter & Rahm v Thomas & Spieth 1UP (2)

No mistake from Jordan Spieth as he rattled away his putt from three feet or so.

A first bit of red on the board today.

Spieth in close on the second

Poulter & Rahmn A/S Thomas & Spieth (1)

Jordan Spieth has gone close, within-10-foot close, off the tee on the par-three second.

Jon Rahm is in the drink though.

Ian Poulter's birdie putt from distance comes up a good eight feet short.

Spieth to putt for the hole. He might get two shots at it as well with Poulter having plenty to do.

McIlroy and Finau straight shooters

2UP McIlroy & Garcia v Koepka & Finau (4)

Onto the fifth for the opening group. Rory McIlroy and Tony Finau straight down the fairway on the par-four hole called Plein Gaz.

They both gave it some.

BBCCopyright: BBC

Woods & Reed in trouble off the tee

1 UP Molinari & Fleetwood v Reed & Woods (2)

The United States' turn off the tee on the par-five third.

Patrick Reed follows Tommy Fleetwood into the water. Tiger Woods is wide on the other side of the fairway and it looks jungle-y out there.

Francesco Molinari is the best placed after one shot certainly.

Europe go two up

2UP McIlroy & Garcia v Koepka & Finau (4)

Now then. We were hoping for a Sergio birdie on four, but with Tony Finau and Brooks Koepka missing par putts, Garcia doesn't even need to take it on.

Europe go two up.

Molinari solid off third tee

1 UP Molinari & Fleetwood v Reed & Woods (2)

Tommy Fleetwood, perhaps a little hyped after landing that putt on the second, splashes into the brook off the third tee.

Pressure on Francesco Molinari on this par five…

The Italian responds with a lovely faded blast down the middle.

Fleetwood lands putt to win hole

1 UP Molinari & Fleetwood v Reed & Woods (2)

Oh yes. Oh yes indeed.

All hail Tommy Fleetwood, oh to touch the hem of his white bobble hat!

The English rookie slides the ball into the hole from 20 feet as casually as if he is out shooting the breeze on the putting green.

The first full-throated roar from the gallery following this match.

Fowler and Casey in tune

Casey & Hatton A/S Johnson & Fowler (3)

Rickie Fowler's eagle putt from 25 feet on the third cannot find the hole but it's enough for birdie. Paul Casey was actually off the green from a similar distance and opts to chip, but is equally accurate.

That's a hole halved.

Brooks duffs up

1UP McIlroy & Garcia v Koepka & Finau (3)

Sergio is squinting into the sun as he lines up his second on the fourth, a 190 yard approach to the green. But his focus is unstinting. He rips the shot to within 15 feet.

Meanwhile, Brooks Koepka is in the first cut of rough and duffs his ball out across the fairway.

I speak from experience, but that was ugly.