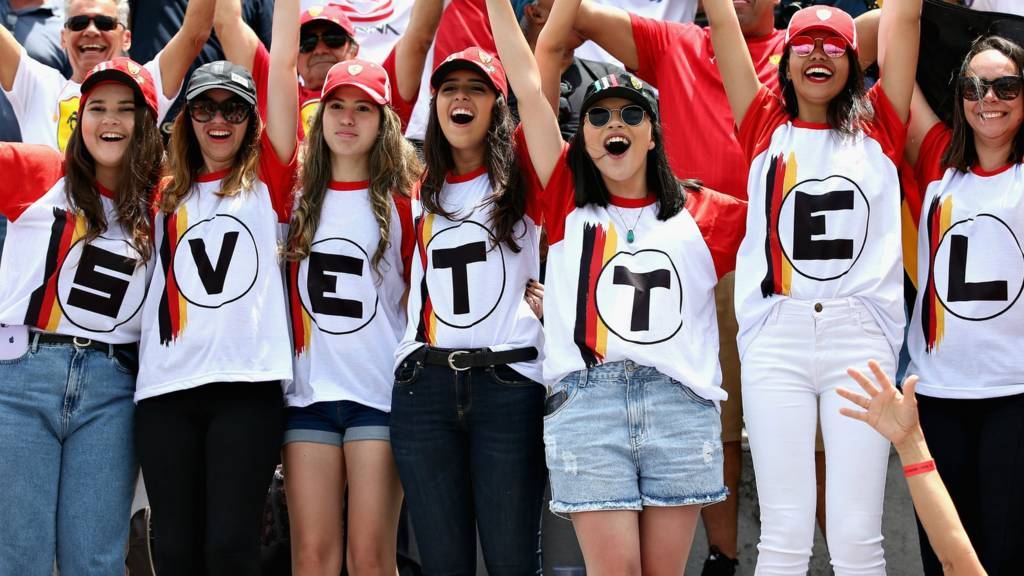 Related Video and Audio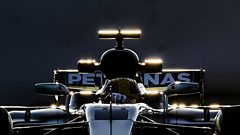 Coming up
Play audio Brazilian Grand Prix from BBC Radio 5 live
Got a TV Licence?
You need one to watch live TV on any channel or device, and BBC programmes on iPlayer. It's the law.
Summary
Race 17:10 GMT – on 5 live sports extra at top of page
Hamilton on pole, Vettel 2nd, Bottas 3rd
Get involved #bbcf1: Who's the greatest driver?
Live Reporting
By Niamh Lewis
All times stated are UK
Marcus Ericsson moments

Japanese qualifying 2018

Think back a few races and many of you may remember this moment in Japan.

"He's gone off into the barriers and rear-ended his Sauber."

He seems to have a problem with the grass.

I'm no expert, but I don't think you're supposed to drive on that bit.

Getty ImagesCopyright: Getty Images

Getty ImagesCopyright: Getty Images

The only other time Lewis Hamilton has out-qualified a teammate in Brazil was with Nico Rosberg in 2016
Hamilton has only ever had one win in Brazil, compared to Sebastian Vettel's three
Mercedes have dominated pole position in Sao Paulo since 2014, but today is Hamilton's third pole in Brazil
It's Mercedes' 100th pole position
30 years to the day since Ayrton Senna's first world championship

Get involved – your fantasy F1 grid

#bbcf1

Alex Adams:Kobayashi and Verstappen as teammates would be something to behold.

Mike Smith:I would sack Brendon Hartley (sorry) – Pierre Gasly is a keeper and I would bring back Susie Wolff in the 2019 Williams second seat – come on Claire.

Stephen Taylor:My fantasy F1 grid: Ascari, Farina, Ayrton Senna, Prost, Hakkinen, Michael Schumacher, Fangio, Moss, Stewart, Clark, D Hill, G Hill, Alonso, Keke Rosberg, Alesi, Hamilton, Mansell, Coulthard, Chiron, Vettel, L Bianchi, J Bianchi, Lauda and Piquet Sr.

Getty ImagesCopyright: Getty Images

Lewis Hamilton is in very chirpy mood on the drivers'
parade, where Felipe Massa and Rubens Barrichello are conducting interviews in a manner so jovial, I wouldn't be surprised to see them host next year's Eurovision Song Contest.

Lobbed an easy question as to whether he's just at Interlagos to make
up the numbers, Hamilton almost leaps up, such is his enthusiasm.

"I want to win! The Brazilian Grand Prix is so hard to win,"
he shouts. "I've not had as much success here as I would have hoped. I want to
win this. Plus we want to win the constructors' championship."

Jenson Button has won the Super GT title for Honda alongside Naoki Yamamoto.

Get involved: Who's the greatest?

#bbcf1

Gruesome Greggo:Hamilton is overrated when comparing his to the career of Senna. Hamilton jumped straight into a fast car, whereas Senna had to prove himself in what to others would have been a non competitive car. Three podiums in an otherwise unreliable Toleman was quite remarkable.

Karen Waddy:Juan Manuel Fangio did it all without the luxury of today's safety measures and with the manners of a true gentleman and the courage of a lion. A real F1 legend.

Peter:Greatest of all time… if it's results, has to be Schumi, if it's on being a nice guy, Jim Clarke, if it's versatility, Graham Hill (only triple crown holder).

'The twisty bit'

Brazilian Grand Prix (17:10 GMT)

Red Bull team principal Christian Horner, speaking to Sky Sports, is focusing on the importance of the tyres today.

"We should have a car that's reasonable on the tyres," he said. "The right rear tyres could be under a bit of pressure. It will be interesting to see how
the teams deal with that.

"We're slow in sector three, but we're strong in
sector two, with the twisty bit, so if we manage the tyres we could get benefit
from that."

Our very own 5 live F1 commentator, Jack Nicholls explores whether five-time world champion Lewis Hamilton has had it easy during his career.

Video content

Video caption: F1 Breakdown: Has Lewis Hamilton had it easy?

Marcus Ericsson moments

Hungary 2014

To be fair to him it was wet… but amusing none the less. If you fancy a chuckle, check it out online, there's plenty of videos.

Getty ImagesCopyright: Getty Images

Andrew Benson

BBC Sport's chief F1 writer at Interlagos

Getty ImagesCopyright: Getty Images

In 2015 and 2017, the other two seasons in which Lewis Hamilton has
clinched the title early, he did not take another pole position before the end
of the season. That, at least, has been put to bed. Now, for the same record
but with wins.

His first problem is staying ahead on the run to the first
corner, although he has a grip advantage in his tyres, Hamilton on the
super-soft and Sebastian Vettel on the soft.

Then, it is about staying there on what appears a disadvantageous tyre choice.

"I was told that there's not a
huge difference (in grip off the line), but there's always a difference of some
sort," Hamilton said. "It will definitely be a little bit interesting. It's not
a massive run down to Turn One but Ferrari are very good at their starts in
general normally.

"However, we are actually quite even in terms of the overall
year performance with Ferrari. We're actually quite equal with them, so we've
both had a similar amount of good starts so I'm excited to just have a battle,
you know.

"But making that tyre last I think is going to be the
interesting scenario but it is what it is. We'll give it all we can tomorrow."

30 years since Ayrton Senna's first world championship

What a milestone that is. Is he the greatest driver of all time? Get involved in our debate on the #bbcf1 hashtag.

Getty ImagesCopyright: Getty Images

What chance rain, Ian?

Brazilian Grand Prix (17:10 GMT)

BBC Weather's Ian Fergusson sees a very decent chance of rain. A very decent chance indeed.

'Now I'm having fun'

Brazilian Grand Prix (17:10 GMT)

Getty ImagesCopyright: Getty Images

Marcus Ericsson, sixth on the grid, is making his penultimate appearance before next season's switch from Sauber to Indy Car, having been replaced by Antonio Giovinazzi, and sounds remarkably philosophical about the whole thing as he speaks to Sky Sports.

"I think my form has been good lately and has been getting
stronger and stronger through the year," he said. "The car's becoming more competitive and
getting more confident.

"When I got the news [about my Sauber role] it was a big disappointment and I
didn't really know how the rest of the year would play out.

"But then I got my future
sorted with Indy Car and now I'm having fun and trying to show what I can do in
these final few races."

Hamilton's 'hoodoo' and constructor matters…

Brazilian Grand Prix (17:10 GMT)

Andrew Benson

BBC Sport's chief F1 writer at Interlagos

Getty ImagesCopyright: Getty Images

Going the remainder of the season without another race win after clinching the world
championship early is not the most heart-breaking of hoodoos for a
Formula 1 driver, but nevertheless that is one matter Lewis Hamilton wants to
put to bed on Sunday in Brazil.

The other is of rather greater consequence –
the destiny of the 2018 constructors' world championship. Mercedes will clinch
a fifth in a row as long as Ferrari do not out-score them by more than 12
points.

There's the pride and bragging-rights factor at stake – Mercedes want
five doubles in a row; Ferrari would at least like the chance to take it to the
final race as they try to salvage something from a season that could have been
so different.

And there's about an $8m difference in prize money between first
and second. Not a massive deal for teams with budgets of $300m or so, but not
small change either. Dead rubber this might appear to be to the outside world,
but for the teams it's anything but.

Get Involved

Tweet us via #bbcf1

So, after all the driver market changes for next season, we want to know what your fantasy F1 grid looks like. F1 drivers only, but they can be current, retired or dead.

Who would you sack?

Who would you keep?

Or who would you bring back?

We're all surprised by Marcus Ericsson's performance yesterday, he out-qualified his teammate who is off to Ferrari next year, they start P6 and P7 respectively.

It seems the only way to get the best out of the Swede is to sack him. So, since his F1 career ends after Abu Dhabi in two weeks time, we're going to relive his best moments.

Get Involved

Tweet us via #bbcf1

We're still talking about who is the greatest driver of all time. Our vote, on the BBC Sport websiteshowed some interesting results with Schumacher on top, Lewis Hamilton in second, and Ayrton Senna behind.

Let us know your thoughts via the #bbcf1 hashtag.

Make your predictions here