Imane Fadil smiles as she leaves a courthouse in Milan, Italy, Oct. 3, 2011. Prosecutors have opened an investigation into the death of the Moroccan model, who testified in one of the inquiries linked to ex-Premier Silvio Berlusconi's "bunga bunga" parties. (Associated Press)
ROME –A Moroccan model who was reportedly a regular guest at sex parties hosted byformer Italian Prime Minister Silvio Berlusconi— and was said to be writing a book about her experiences — may have been fatally poisoned, prosecutors in Italy say.
Imane Fadil, 34, died March 1 in a hospital inMilan, where she had been undergoing treatment since Jan. 29 after exhibiting "symptoms of poisoning," Italian news agency ANSA reported, citing information from Milan prosecutor Francesco Greco.
ITALIAN PM SILVIO BERLUSCONI TELLS YOUNG WOMEN TO LOOK FOR RICH GUYS — LIKE HIMSELF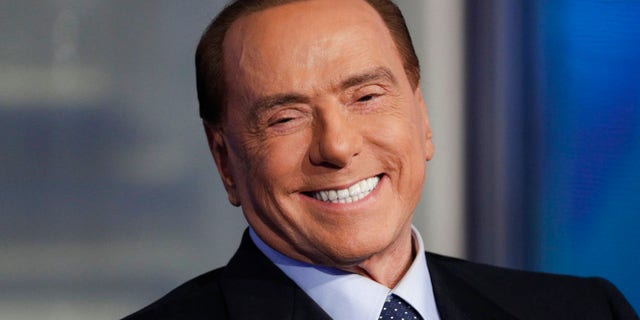 Former Italian Prime Minister Silvio Berlusconi. (Associated Press)
Laboratory results suggest she may have had radioactive substances in her system, including cobalt,the BBC reported.
Fadil was a key witness for prosecutors in 2012 against Berlusconi, who stood trial on allegations of paying for sex with a minor and using his influence to cover it up. The case drew global attention for tales of so-called "bunga bunga" parties, where Berlusconi and other men would cavort with young women. Photographs later flooded the internet.
Fadil had told reporters in 2012 that she feared for her safety after telling prosecutors that she was offered hush money regarding what happened at the parties.
Berlusconi, now 82, was initially convicted but later won an appeal. He was ultimately convicted on tax fraud charges and sentenced to carry out community service. He still faces charges in connection with alleged witness tampering.
When contacted Saturday and asked about Fadil, Berlusconi denied knowing her.
CLICK HERE TO GET THE FOX NEWS APP
"It's always a pity when a young person dies," he said, adding, "I never met this person, never talked to her. What I read of her statements made me think that everything was invented, absurd."
After the trial, Fadil claimed that her association with the case prevented her from finding work as a television sportscaster. She was hospitalized two weeks after beginning negotiations with lawyers for a Berlusconi co-defendant about a possible settlement deal.
The Associated Press contributed to this story.
Notice
: Trying to get property of non-object in
/home/anambrae/public_html/thefact/wp-content/themes/flex-mag/functions.php
on line
982