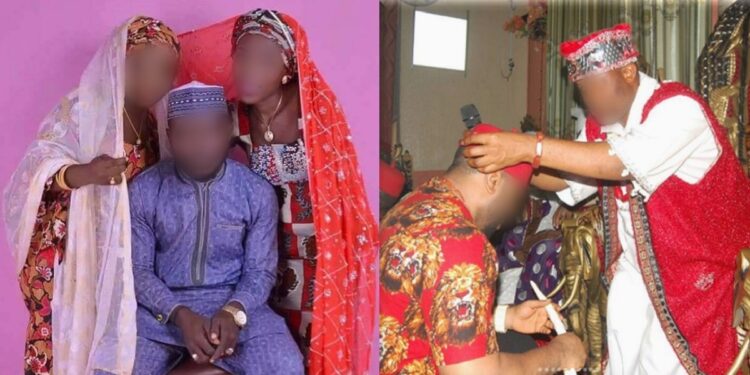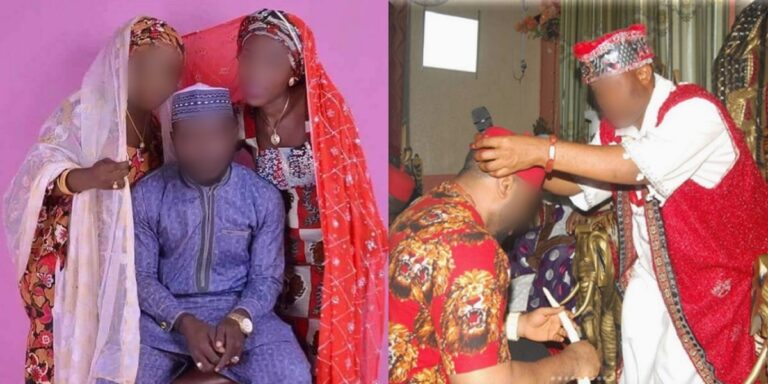 A Twitter user, Ben, has asserted that a Nigerian man should have at least two wives and a chieftaincy title before his 40th birthday.
Ben, who describes himself as a 'traditional African man', took to the popular microblogging platform to share this opinion recently.
According to him, every Nigerian man should have married at least two wives and have a chieftaincy title by the age of 40 to preserve the revered Nigerian culture.
"Top 2 things every Nigerian man should do before his 40th birthday.
1. Have at least 2 wives
2. Take at least 1 chieftaincy title
This is the only way we can preserve our culture," he tweeted on Monday.
See below,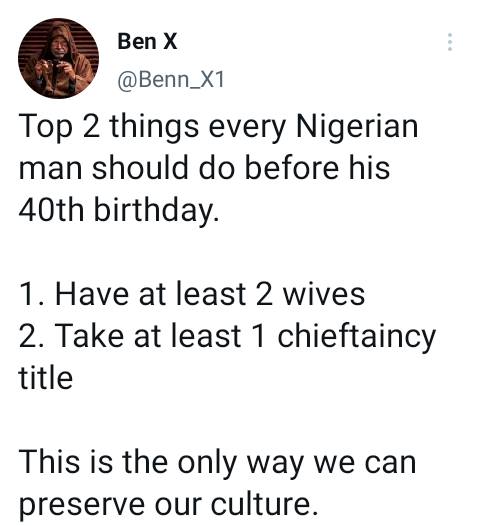 In other news, controversial media personality, Solomon Buchi, has taken to social media to gush over his wife, Adeola.
Solomon, who recently married his wife and frequently shares her photos on his social media page with captivating captions, again, posted a series of photos of his wife on Twitter.
Sharing the photos, the self-acclaimed life coach boldly declared himself a 'simp' and told anyone who doesn't like the way he flaunts his wife and gushes over her online to go and cry in their 'alpha male coven'.
"Today's dose of my wife's beauty and style. I am a simp. A gone man. Yes, go and cry in your alpha male coven. Crusty and shallow old men," he said in a Twitter post on Monday, May 22.