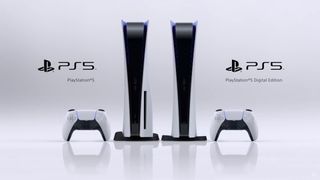 The PS5 (or PlayStation 5) is the next-generation PlayStation console, with a release date confirmed for late 2020. During Sony's The Future of Gaming event on June 11, we finally got our first look at the PS5's design and the PS5 games line-up, which includes the likes of Horizon Forbidden West and a remake of Demon's Souls. 
The PS5 design reveal was a shock, and it included the surprise unveiling of the PS5 Digital Edition – an streamlines, all-digital console without a disc drive. It's another sign that console manufacturers have their eye on a future without physical media. While Sony didn't reveal the PS5 price or release date, we now know a lot of what we can expect when the PlayStation 5 launches later this year.
In many ways, this was the equivalent of a PS5 E3 conference, and we now have a strong idea of what to expect from Sony's next-gen machine. 
Here's the event re-cap video if you missed it:
Earlier this year, Sony revealed the DualSense PS5 controller, which includes a slew of impressive-sounding features like haptic feedback, adaptive triggers and a built-in mic. What really stands out about the DualSense controller, though, is its radically different look and space-age black-and-white color scheme, and it turns out the PS5 design has a similar look – this marks a significant departure from its predecessors. 
Just as important as the DualSense Controller are the PS5 specs, discussed in detail at Sony's March reveal event. Lead system architect Mark Cerny provided us with a deep dive into the PS5's system architecture, revealing the technical inner workings of the PS5. We'll cover them in more detail down below, but the short of it is that the PS5 is rocking an AMD Zen 2-based CPU with 8 cores at 3.5GHz, 16GB of GDDR6 memory and a custom RDNA 2 AMD GPU that puts out 10.28 TFLOPs of processing power.
When it comes to other PS5 features, we know the next-gen console will have ray-tracing, a super-fast SSD, a built-in 4K Blu-ray player and will be backwards compatible with a huge swathe of the PS4's game catalogue. It may even have voice assistant capabilities to tell you how long it will take to beat levels. So far, then, the PS5 is living up to the hype, but it's the games that'll make all the difference. 
Want all the juicy details? Here's everything we know about the PS5 so far, including the newly-revealed design – and what we hope will be revealed the closer we get to launch.
PS5: key facts
What is it? The Sony PS5 is the next-gen PlayStation console, replacing the PS4 Slim and PS4 Pro.
When will it release? "Holiday 2020" in the US, says Sony, so between October and December 2020. 
What can I play on it? Loads of games! They include a new Spider-Man entry, a Horizon Zero Dawn sequel, a Demon's Souls remake, Resident Evil 8 and much more to come.
Will PS5 have VR? Oh yes. The next-gen console will be compatible with current PSVR hardware, and there are also rumors of PSVR 2.
What will the PS5 cost? TBC. The PS4 and PS4 Pro were both $399 / £349 at launch, but we expect the PS5 will cost somewhat more. Leaks have suggested around the $499 mark.
Can I play PS4 games on the PS5? The PS5 will definitely be backwards compatible with "almost all" PS4 games – earlier generations are still to be confirmed. It will launch with support for the majority of the top 100 PS4 games, according to Sony's Mark Cerny.
Will coronavirus delay the PS5 release? Sony has confirmed the PS5 release date is not currently delayed by coronavirus, and reiterated the fact that the PS5 is still on course for a "Holiday 2020" release in its end of year financial report. 
PS5 design revealed
The PS5 design was officially revealed on June 11, 2020. Watch the PS5 hardware trailer above.
When it came to the reveal of the console itself, Sony nailed it – the icing on the PS5 games reveal event, and with a few surprises in store too. Not one, but two PlayStation 5 consoles will launch – a standard edition with a 4K Blu-Ray disc drive, and a slimmer, disc-free Digital Edition.
Both make use of USB-C charging for their controllers, and can make use of a HD camera accessory, alongside a new PS5 wireless headset and media remote.The consoles themselves feature a striking design that's sure to split opinion. 
A curvy mixture of black and white plastics with blue highlight lighting, it's far removed from the 'black box' designs of previous PlayStation consoles. What was not revealed however, were pricing and precise availability, which remain a mystery beyond the aforementioned 'Holiday 2020' window.
The digital edition sees Sony moving with what's increasingly becoming a physical-media-free hobby, banking on players to make use of digital downloads and streaming services rather than buying games or movies on disc-based hardware. 
It'll certainly make swapping games with friends a challenge, as well as trading them in, and gaming stores will likely be a little worried by its presence – especially if it proves significantly cheaper than the main version of the machine. But for those that enjoy building a physical library, the disc-based console remains an option at least.
Here are some shots of the PS5 design:
Image 1 of 4
Image 2 of 4
Image 3 of 4
Image 4 of 4
PS5 release date
Sony has officially confirmed that the PS5 will release globally "in time for Holiday 2020", so likely some time between October and December 2020 – putting it in direct competition with the Xbox Series X, which is releasing in the same window. A leak has suggested that the release date will be November 20, 2020 but that's yet to be confirmed. 
However, this date would be in the right window, as we're predicting the PS5 will release in November, 2020. November is historically when we've seen PlayStation consoles launch and it would leave time before Christmas to get those orders in. 
AMD, the tech giant that's been commissioned to make the processor and graphics chips in both the PS5 and Xbox Series X next-gen consoles, is "ramping up production" to prepare for their respective launches, AMD CEO Dr Lisa Su confirmed in early May 2020. This timing too is also suggestive of a November launch window.
Despite rumors, a Sony has confirmed the PS5's release date has not been delayed by Covid-19 so we will see the next-gen console release in late 2020 – even if we're not sure exactly when that will be. 
We're expecting to find out the PlayStation 5's official release date soon, now that we've seen the design.
PS5 price
Sony hasn't officially confirmed a PS5 price yet and, last we heard, that's because it hasn't actually decided how much the next-gen console will cost. The price wasn't revealed during the June 2020 event, but we weren't expecting to see it there anyway.
In a quarterly earnings call (via Spiel Times) back in February, Sony's chief financial officer Hiroki Totoki revealed the company still hasn't nailed down the PS5 price.
"What is not very clear or visible is because we are competing in the space, so it's very difficult to discuss anything about the price at this point of time, and depending upon the price level, we may have to determine the promotion that we are going to deploy and how much costs we are prepared to pay," Totoki explained.
"It's a balancing act it's very difficult to say anything concrete at this point of time," Totoki said. But we do know that Sony is aiming for "the best balance so that we will be profitable in the life, during the life of this product."
However, Sony Interactive Entertainment's president and CEO Jim Ryan has hinted that a PS5 price tag may be closer to being decided and that the PS5 might not have the 'lowest price' in battle against Xbox Series X
In a wide-ranging interview with GamesIndustryBiz, Ryan addressed speculation around the PS5 cost. While not revealing the price, Ryan suggested the PS5 price could be a significant hit on gamers' savings, and certainly not committing to beating the Xbox Series X on price.
Speaking on whether the potential for a Covid-19-related recession will affect sales of the PS5, a high-value gadget, Ryan said:
"I think the best way that we can address this is by providing the best possible value proposition that we can. I don't necessarily mean lowest price. Value is a combination of many things. In our area it means games, it means number of games, depth of games, breadth of games, quality of games, price of games… all of these things and how they avail themselves of the feature set of the platform."
While Sony may not have confirmed a price yet, there have been rumors about how much the PS5 could cost. While the latest PS5 price leaks are wild – and can't be trusted – some predictions seem a bit more feasible (even if they're not reliable). 
One rumor has suggested that the console will cost $499 in North America when it launches. Naturally this should be treated with skepticism, but it would be welcome news if the console did launch at this price, as it's only $100 more than the launch price of the PS4 and PS4 Pro. 
We think this could be the most likely price for the console, but that could be wishful thinking. A recent report by Bloomberg claims that Sony will not be making as many PlayStation 5 consoles for launch as it did for the PS4's launch back in 2013, despite no delay to production or on sale date being expected. 
According to the report, Sony is simply anticipating less demand. This is likely due to what is expected to be a higher asking price for the PS5 than the PS4 launched with. The PS5 is expected to really push the boat out in terms of high-end components, and as such will likely be met with a higher price tag. 
Microsoft's plans for the Xbox Series X are key here, and Sony could well decide to sell the hardware at a slight loss to stay competitive with the other console. The PS4 benefited from a lower cost than the Xbox One, and Sony likely won't be keen to reverse that for this generation. We hope.
However, speaking on an episode of Geoff Keighley's Bonus Round (via PushSquare), industry analyst Michael Pachter suggested that it could be Microsoft that considers taking a significant loss on the Xbox Series X to undercut the PS5's price.
We can only speculate about whether this will happen. But, while we can expect that the PS5's price will be in line with the technology it uses, Sony will also have to be aware of its competition. It's unlikely, with the Xbox Series X, that Microsoft will repeat the mistake it made by launching the Xbox One at a prohibitively high price point, so Sony will have to ensure that it doesn't make a similar mistake by making the PS5 too expensive.
It could be a while before we get confirmation of the PS5 price – possibly a few months yet. Historically we've seen both companies reveal their console pricing around June or July, but this time things are a bit different. The hot topic of pricing has many on the edge of their seats, as we see just how powerful the PS5 and Xbox Series are, and wonder how expensive the technology will be. 
It seems like we're currently in something of a standoff, with both companies waiting to see what the other will price its next-gen hardware at – possibly so they can undercut each other.
It looks like Sony and Microsoft will be waiting until the last possible moment to set their pricing, with plenty of time before then to make adjustments. Still, enough time will need to be set aside before the consoles release between October and December for people to get those pre-orders in.
PS5 specs
CPU: AMD Zen 2-based CPU with 8 cores at 3.5GHz (variable frequency)
GPU: 10.28 TFLOPs, 36 CUs at 2.23GHz (variable frequency)
GPU architecture: Custom RDNA 2
Memory interface: 16GB GDDR6 / 256-bit
Memory bandwidth: 448GB/s
Internal storage: Custom 825GB SSD
IO throughput: 5.5GB/s (raw), typical 8-9GB/s (compressed)
Expandable storage: NVMe SSD slot
External storage: USB HDD support (PS4 games only)
Optical drive: 4K UHD Blu-ray drive
As well as the design, we also know the PS5 specs. Sony lifted the hood on the PlayStation 5 during its first official PS5 reveal event, giving us a better idea of the specs the next-gen console will offer. But what do we think?
What's interesting so far is Sony's commitment to custom silicon, with a full focus on raising gaming capabilities to the next level, without alienating developers now comfortable with developing on the PS4. Custom hardware in the PS3 proved to be a difficult element for devs to get their heads around, but the PS5 aims to be as developer-friendly as possible.
The importance of the SSD
As has already been explored, the SSD is key to the PlayStation 5 experience. Internal storage will be built in at 825GB for the custom SSD – that's less than you'll find in the Xbox Series X, but with just as clever an implementation of the technology.
SSDs don't just load faster, but allow for bigger open worlds, theoretically. Developers don't need to make games with smaller worlds due to the limitations of mechanical hard drives, while SSDs will also allow system memory to be used more effectively.
SSDs have more bandwidth, so data can be loaded from the SSD when it's needed, rather than heaps of potentially needless data being loaded into RAM. In pure gameplay terms that means that games will suffer less from texture pop-in, while load times will be hugely reduced when using a game's fast-travel option. Booting up from standby should be generally much faster, too.
You'll also have more control over how you install and remove games, meaning you could just install a game's multiplayer mode rather than the full block of data. This will allow for launch of direct gameplay, allowing players to jump straight into aspects of different games (such as match-making, continue save game etc) without having to boot up the full game.
As for expandable storage, Sony appears to be allowing for off-the-shelf NVMe PC drives, rather than proprietary storage systems that Xbox will primarily be relying on. However, there aren't many drives on the market right now that use the PCIe 4.0 interface required – they need to be capable of at least a 5.5GB/s transfer speed.
"NVMe PC drives will work in PlayStation 5," said Cerny. "The only problem is that PC technology is significantly behind PS5. It'll take some time for the newer, PCIe 4.0-based drives with the bandwidth required to match Sony's spec to hit the market." 
PS4 games on the PS5 will work just fine if saved to a regular HDD, however, so you won't need to tap into that precious SSD space unnecessarily. 
When asked about the PlayStation 5's speed compared to its current-gen console at a corporate strategy meeting, Sony made the bullish claim that PS5 will "revolutionize the game experience for users" in an official Sony document. 
Sony CEO Kenichiro Yoshida added that the PS5's custom-built SSD will enable processing speeds that dwarf those found on PlayStation 4.
"In order to further enhance the sense of immersion in games, we expect to improve not just the resolution, but the speed of games," the Sony document reads.
"For example, through a custom-designed high-speed SSD, we plan to realize game data processing speeds that are approximately 100 times faster than PS4. Game load times should be much shorter, and players should be able to move through immense game worlds in almost an instant."
In fact, Epic Games has revealed that the PS5's SSD is so fast that the developer had to rework the Unreal Engine 5 tech demo to take full advantage of it. 
"The ability to stream in content at extreme speeds enables developers to create denser and more detailed environments, changing how we think about streaming content," Epic Games VP of engineering, Nick Penwarden, told VG247. "It's so impactful that we've rewritten our core I/O subsystems for Unreal Engine with the PlayStation 5 in mind."
A custom processor and GPU – what that means for backwards compatibility
We were already aware that Sony will be using AMD's Zen 2 CPU processor tech, with eight cores and 16 threads. The reveal stream, however, also revealed that the PS5 will be delivering 3.5GHz frequencies – so, the PlayStation 5 would be running 8x Zen 2 Cores at 3.5GHz (at variable frequencies) over the PS4's 8x Jaguar Cores at 1.6GHz. That's a huge jump in performance.
Move over to the GPU, and you're looking at the AMD RDNA 2 GPU, itself customized. It makes use of 36 compute units capped at 2.23GHz. A compute performance peak of 10.28TF was stated.
What's smart is that the combination makes it simple for the PS5 to easily handle PS4 backwards compatibility – through GPU architecture rather than hours of coding. Almost all of the top 100 PS4 games will be fully compatible at launch. PS4 games will be supported natively on the GPU silicon, but here the GPU seems to be emulating PS4 and PS4 Pro graphics chips, which is a strange solution, and not as interesting as Xbox Series X's method, which will also be capable of upscaling previous Xbox generation games and adding HDR to previously HDR-less titles.
Tempest 3D audio tech
Perhaps the biggest reveal of the PS5 specs unveiling was the 3D audio support, thanks to the new Tempest Engine. It's an incredibly powerful system: if the PSVR can support "50 pretty decent sound sources," according to Cerny – with the PSVR's distinct audio system being one of the more complex audio systems in gaming at the moment – the PS5's Tempest Engine can support hundreds.
The example Cerny used described it in terms of rainfall. Today, the sound of rain in a game is a single audio track, but the PS5 would theoretically be capable of letting you hear individual raindrops, in relation to where the player character is.
"Where we ended up is a unit with roughly the same SIMD (single instruction, multiple data) power and bandwidth as all eight Jaguar cores in the PS4 combined," said Cerny. 
The amount of attention Sony is heaping on its Tempest Audio Engine suggests it may be the secret weapon in the PlayStation 5 arsenal.
At a corporate strategy meeting for Sony, a slideshow called the PlayStation 5 an "evolution of sound".
"By installing a customized 3D audio processing unit in PS5, we have made it possible to deliver diverse and sophisticated 3D audio experiences," the slide read. "Players can experience sound that moves in from front to behind, above to below, and all around them."
"If we were to use the same algorithms as PSVR, that's enough for something like five thousand sound sources – but of course we want to use more complex algorithms, and we don't need anything like that number of sounds."
Perhaps best of all is the way you'll get to experience this – even a lowly pair of headphones at launch will be able to take advantage of the sense of presence and directionality Sony is promising here, with the company also committing to later support multi-speaker surround systems with the tech.
But this is an ongoing project for Sony. To accurately model surround data positioning, Sony needs to create a Head-related Transfer Function, or HRFT, map. Essentially, that's a distinct algorithm that works best if the system knows the precise shape of your ears.
"Maybe you'll be sending us a photo of your ear, and we'll use a neural network to pick the closest HRTF in our library," Cerny teased. "Maybe you'll be sending us a video of your ears and your head, and we'll make a 3D model of them and synthesize the HRTF. Maybe you'll play an audio game to tune your HRTF, we'll be subtly changing it as you play, and home in on the HRTF that gives you the highest score, meaning that it matches you the best.
"This is a journey we'll all be taking together over the next few years. Ultimately, we're committed to enabling everyone to experience that next level of realism."
PS5 DualSense Controller
The PS5 will come with a new gamepad, one that Sony is dubbing the DualSense PS5 controller, not the DualShock 5, like you'd expect. Also a departure is the black-and-white color scheme that is bold – and likely to be divisive. That's the confirmed design in the picture above, and it's closely mirrored by the PS5 console design, as you've already seen. 
The two-tone PS5 controller color scheme extends to the four face buttons, which still consist of Triangle, Circle, Square and Cross (or X), but they're devoid of color. There is a pop of color around the side of the central touchpad, as the PS4 Lightbar has moved from the top of the gamepad on the PS5.
The PS5 controller includes haptic feedback in the L2 and R2 shoulder buttons that are going to be adaptive. Sony explains that these adaptive triggers are important to let players feel the tension of their actions, like drawing a bow to shoot an arrow. This will let developers program the resistance of the triggers to simulate actions more accurately.
The DualSense will include a microphone inside of the controller, allowing gamers to ditch their headset to communicate with friends. And the 'Share' button is dead. Long live the 'Create' button. That's what Sony is calling the the button that's in the same spot and still intended for gameplay content to share with the world. Sony is teasing more details about this button ahead of the console launch.
PS5: what will I be playing?
We finally got our first look at Sony's "compelling" PS5 games line-up on June 11, with announcements from first and third-party developers. The June 11 games reveal was a strong showcase for what's to come for PS5, mixing first and third-party developers for more than an hour's worth of gameplay.
Dozens of games were shown off, and a wide variety of indies sat alongside big name studios like Capcom and Bethesda. But there were a few standout stars among them.
Crowning the show was Horizon Zero Dawn sequel, Horizon Forbidden West. A game that undeniably showed off the pizazz of next-gen visuals, it featured sun-kissed beaches and tropical reefs, complete with the robot dinosaurs that terrorised the original game. It'll see protagonist Aloy head to the ruins of America, and looks a must-buy straight out of the blocks.
Other franchises are set to return too. Sony's take on Spider-Man, helmed by Insomniac Games, will swing back into action with Mile Morales taking the role of the friendly neighbourhood Spider-Man in another open-world title across a to-scale Manhattan. 
The long-rumoured Demon's Soul PS5 remake was also confirmed, for those who like their RPG's with a side of masochism. And the Resident Evil franchise will be making another first-person outing, with the mainline series getting a new sequel: Resident Evil 8: Village looks like it will be taking a journey back to the creepy European climes that terrified in the classic Resident Evil 4.
A new Ratchet and Clank game, a new Oddworld title and a new Gran Turismo title were all also revealed, as well as the news that an 'expanded and enhanced' version of Grand Theft Auto 5 for PS5 will also land, marking the third generation of consoles the crime caper has now featured on. Arkane's Deathloop was also shown off once again too, following its initial reveal at E3 2019, looking like Dishonored if directed by Quentin Tarrantino.
For a full look at the dozens of PS5 games on the way, check out our full PlayStation 5 games round-up. 
What else do we know about the PS5's games, beyond the reveal event?
Well, for a start, we know that an "overwhelming majority" of the more than 4,000 PS4 games available will also be playable on the PS5, including PSVR games, through backwards compatibility. While "almost all" of the top 100 PS4 games will be playable on the PS5 at launch, this backwards compatibility library may be extended through regular system updates.
Not only will we see backwards compatibility with PS4 games, but expect any first-party PS4 game in the pipeline – from Ghost of Tsushima to The Last of Us 2 – to be cross-gen titles (though Sony hasn't committed to this yet, as of June 2020). In addition, any new first-party PS4 games submitted to Sony for certification after July 13 have to be PS5 compatible – essentially making them forwards-compatible titles. We've also heard enough chatter around a Horizon Zero Dawn sequel and new God of War game to assume we'll be seeing both land on the PS5 console.
But what about third-party titles? We will see a remake of THQ Nordic's cult classic Gothic, the action RPG Godfall, Gollum, WRC 9, Battlefield 6, Dying Light 2 and Outriders land on PS5. In addition, Ubisoft has confirmed that Watch Dogs: Legion, Rainbow Six Quarantine, Gods and Monsters and Assassin's Creed Valhalla are all coming to Xbox Series X and PlayStation 5 – with a new Far Cry also rumored to be coming to the platforms. We also know Rainbow Six Siege will be available on PS5 and Xbox Series X from launch. However, Ubisoft has said that it could delay these games if the next-gen consoles don't make their launch window. Destiny and Fortnite will land on PS5, too.
It's likely that we'll see the likes of Starfield and The Elder Scrolls 6 coming to PS5 and Xbox Series X, too.
If you're holding out hope that any of Sony's PS5 exclusives that were revealed during the showcase will come to the PS4 too, you will be disappointed.
In an interview with GamesIndustry.biz, Sony Interactive Entertainment's president and CEO Jim Ryan seemed to shoot down the possibility of PS5-exclusives games coming to PS4 in the future.
"We have always said that we believe in generations," Ryan said. "We believe that when you go to all the trouble of creating a next-gen console, that it should include features and benefits that the previous generation does not include. And that, in our view, people should make games that can make the most of those features.
"We do believe in generations, and whether it's the DualSense controller, whether it's the 3D audio, whether it's the multiple ways that the SSD can be used… we are thinking that it is time to give the PlayStation community something new, something different, that can really only be enjoyed on PS5."
Sony has also confirmed that the PS5 will prioritize AAA games over indie games in an effort to focus on "serious gamers".
In addition to the gameplay reveals, we saw what the PS5 is capable of in Epic's Unreal Engine 5 reveal. This tech demo is running on PS5:
What about a PS5 Pro?
We're not sure if there'll be a PS5 Pro, but the reveal of an all-digital PS5 suggests that Sony is planning multiple versions of the console. A PS5 Pro feels possible, but we'd expect it deeper into the next generation of consoles.